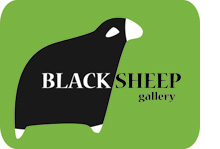 GENERATIONS – An Exhibition of the work of Patricia Promaine, Howard Jasper and Kim Corrigan. August 1 - 31, 2017

Patricia Promaine painted images of her community from her memories of living on a farm near Waterloo, Ontario. The Meeting House, The Wedding and Coming Home From Church document the bustling work and social activities of her rural Mennonite neighbours.

Patricia's son in law, Howard Jasper, was an avid collector of Canadian folk art and the humor, wit and whimsy of this art genre is reflected in many of his pieces including Canada Goose, Weathervane and Four Birds.

And a generation later Howard's daughter, Kim Corrigan, was also captivated by this genre. One can easily see the influence of her grandmother's depiction of pastoral country life and her father's fascination with folk art, in her painting Cow.

We are also introducing this month a new artist from the Eastern shore of Nova Scotia. John Benoit lives just down the road from our gallery, and has been carving and painting for three years. John was a paramedic and a military medic and now uses his art to help him with his daily struggle with PTSD.

We have added two original Maud Lewis paintings to our gallery site.

Don't forget to visit our blog, at Tumblr.




Please visit us on our facebook page

, twitter

and

. You can also watch videos of some of the artists whose work we carry on YouTube

. Enjoy!